Double allows you to be in a different place and physically present
Be on screen
With the iPad Air 2 or iPad Pro, you are always visible. It's as if you are physically in the room.
Charging
Using the charging Dock, Double can be fully charged in 3 hours.  A full charge allows 6-8 hours of usage.
Height control
Double's height is remotely controlled. Sitting height is 47" (119 cm). Standing height is 60" (150 cm).
Business
Regular meetings or trainings can be carried out inexpensively and spontaneously with a telepresence robot.
Events
The remote-controlled freedom of movement and autonomy of a telepresence robot opens up new application possibilities.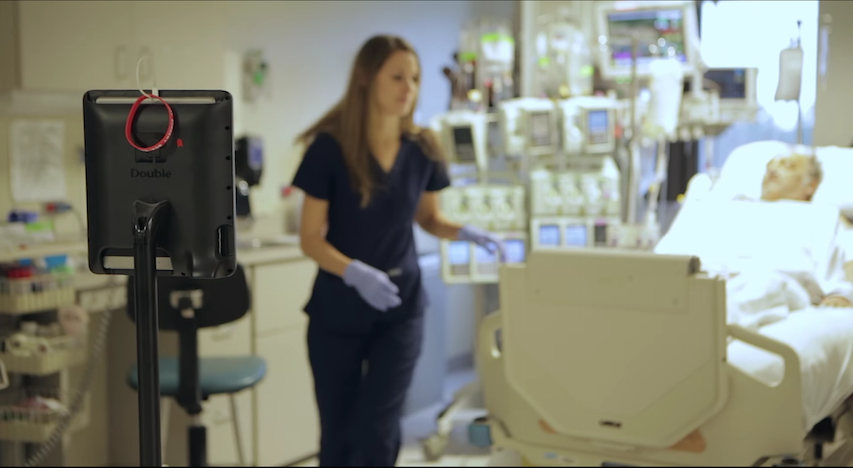 Education & Healthcare
Information transfer via telepresence robots can be implemented much more effectively.
Total control at your fingertips
Move and see as if you are physically there
Double gives you the freedom to move instead of being stuck in a static display or monitor. Lateral stability control guarantees a smooth ride along with magical self-balancing. With dual kickstands, park it anywhere.
Double is best for corporate use and for managers who need to be in two places at once. Off-site projects can be checked from the office saving money and time.
See things as if you are there
The HD camera lets you navigate easily through any room
Finding, satisfying, and retaining employees are special challenges in this day and age. The ability to work from anywhere is a key driver of employee satisfaction and success for companies.
Telepresence robots like Double give you and your employees the ability to see things as if you are really there. You can reduce travel costs while increasing employee satisfaction and productivity.
Speak as if you are in the room
At a meeting, simply take your seat in the room as Double and speak from your office like you are there. The integrated audio kit will ensure that you are heard and allow you to interact with your team.
You can have Double within 1-2 weeks ready
We are helping you to find the best solution for your use case and purpose. Double is a powerful tool, that can be used for corporate meetings.
Download Double assets such as a handbook or guidelines. If you have any questions, please use the chat or contact form below.